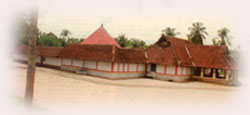 Anita one of my close friends and first supportive followers wrote this for us,  enjoy....
Onam is the national festival of the people of Kerala. It is the festival of flowers, which falls in 'Chingam' or Bhadrapada usually in August or September. It is a harvest festival and goes for 4 colourful days with song and Kathakali dances, feasting and boat races.
Legend
There is a legend behind Onam. In ancient times Kerala was ruled by an asura King Mahabali who was very wise and greatly loved by the people. Because of jealousy, the king of gods, Indra, hatched a plot to oust Mahabali. To execute the scheme Vishnu disguised himself as a Brahmin boy, Vamana, and went to the asura King. He asked as much land as he could cover in three steps and King Mahabali agreed to the request. Vamana immediately began to grow as big as the universe and with two steps, he covered the earth, the heavens and the nether world. He looked at Mahabali to place his third step and the King offered his head for Vamana to place his foot. Vamana pushed Mahabali down to the ground and before he disappeared Mahabali asked Vishnu for a boon to come to the earth once a year to see his people and the request was granted.
The celebration of Onam is a tribute to Mahabali's sacrifice.
Rituals
After traditional prayers and worship the head of the household presents new clothes to the family and friends. There will be variety of entertainments like dances, sports etc. 
The festival lasts at least for four days. In many parts it goes beyond that period and occupies 6-8 or even 10 days. 
 The younger generation keep up the mirth and jollity which sets foot on this day till the end of the festival. The elders join them only on the last four days. The children of the village, assemble early morning and set about collecting flowers to decorate the yards of their houses for the ten days from Atham to Thiruvonam..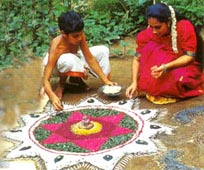 AVIYAL
Ingredients :
Green chilies 1 or 2 nos
Cumin seeds one teaspoon
Turmeric powder ½ teaspoon
Raw coconut or coconut powder (½ cup)
Salt to taste (one teaspoon)
Yogurt 3 Tablespoons or lemon juice 1 Tablespoon or diced raw mango 1/3 cup
Fresh curry leaves or pre-soaked dry curry leaves
Mixed vegetables 5 cups (kumbalanga, kathirikka, padavallanga, muringakka, raw plantain),
Carrots (1 or 2 only) or long beans or french beans, cucumber, potatoes, zucchini other kinds of squash.
Method:
Cut plantain or raw banana into long pieces and mix with some yogurt (2 tablespoons) and keep aside for 10 minutes. Rinse well before boiling. Boil the remaining veggies in ½ cup of water add salt and turmeric powder. When boiling add very little water if the veggies we add are rich in water (cucumber, cumbalanga etc.) Add the sliced green chilies to the boiling vegetables if you don't like it too hot. Else blend it with the coconut. Add the veggies that take longer to cook like plantain first, then beans etc. Meanwhile, blend the coconut to a smooth or semi-smooth paste with the green chilies or half the green chilies, and cumin. When the veggies are almost cooked, add this blended paste and curry leaves cook for a few minutes. Finally add the yogurt/lime juice/raw mango and mix it in. You can season with mustard seeds if you wish.
Ingredients :
Finely chopped green chillies - 25gm
One ripe lemon deseeded and chopped into small pieces - 200gm (if the lemon is green, peel it).
Red chilli powder - 50gm
Asafoetida (Kayapodi) - Half a teaspoon
Fenugreek powder (uluvapodi) - Half a teaspoon
Salt to taste
Coconut oil - One tablespoon
Mustard seeds - One teaspoon
Three red chillies chopped into three pieces each
Curry leaves - Two sprigs
Method:
Mix the chopped lemon, green chillies, red chilli powder, asafoetida, fenugreek powder and salt, well with your hands and keep aside for an hour. Heat the coconut oil and add the mustard seeds. When they splutter, add the red chillies and the curry leaves and add them to the lemon mix. If you feel that the pickle is too dry, then add a little water at room temperature. Do not cook the lemon. Choose one that is not too bitter
Ingredients :
Ginger-1/2 kg
Green chillies-1/2 kg
Oil-1 cup
Mustard-1 tsp
Turmeric-1 tsp
Salt to taste
Bengal gram-1 tbsp
Urad dal-2tbsp
Fenugreek seeds-2 tbsp
Asafoetida-pinch
Jaggery-4 tbsp
Tamarind-4 tbsp
Black sesame-1 1/2tbsp(roasted)

Method:
Cut ginger and green chillies into small pieces and keep aside. Heat oil in a deep pan. Add the mustard and all the dals, ginger and green chillies and saute for a minute. Now, add water, tamarind paste, turmeric, asafoetida, salt and jaggery to this. Keep stirring and cook on a low flame till it becomes reduced to half. Garnish with sesame seeds.
Ingredients:
Nicely chopped ginger - 4 spoons
Curd - 6 spoons
Salt - as required
Method:
Mix all the ingredients and stir well. The injithair is ready.
Ingredients:
Yogurt 2 tbsp
Coconut paste 1/2 cup
Oil 1tbsp
Mustard seeds pinch
Onion 1 tbsp chopped
Whole red chilly 4 broken
Garlic 1/2 tsp
Ginger 1 tsp
Curry leaves
Fenugreek powder1/4 tsp(optional)
Cumin seeds 1/2 tsp
Turmeric 1/8 tsp
Method:

Mix coconut, curd and green chillies in a blender. To this paste, add 1-cup water, red chilly powder, turmeric and salt. Bring to a boil and remove from the heat. Heat the oil separately .Add mustard seeds cumin seeds, fenugreek seeds to the oil and then, add the chopped onion, the red chillies, the garlic, the ginger and the curry leaves. Vegetables like zuchini ,yam etc can also add, but make sure that the vegetables are cooked before adding the curd. Then boil the curd only 
(I have edited this a lot, if you would like the full article drop me a line with your email its a great article with loads more recipes, I just felt it a wee bit long for chow and chatter LOL)

oh this blog owner just added me as a friend on blog catalog he is a tour guide from Kerala and has a nice blog on the state with great pictures heres a link, we love Kerala, went there on honeymoon!